Arizona Rep. Ruben Gallego Hired Anti-Law Enforcement Staffers for Senate Campaign
Arizona Rep. Ruben Gallego (D) hired staffers who have a history of speaking out against law enforcement to help run his recently announced Senate campaign, Fox News reported.
The Arizona Democrat on Monday officially launched his candidacy to try and unseat Sen. Kyrsten Sinema (I-AZ).
Although Gallego purported to support law enforcement and touted his vote in favor of a pro-law enforcement funding package in September, he has made some interesting hires to help with his Senate campaign.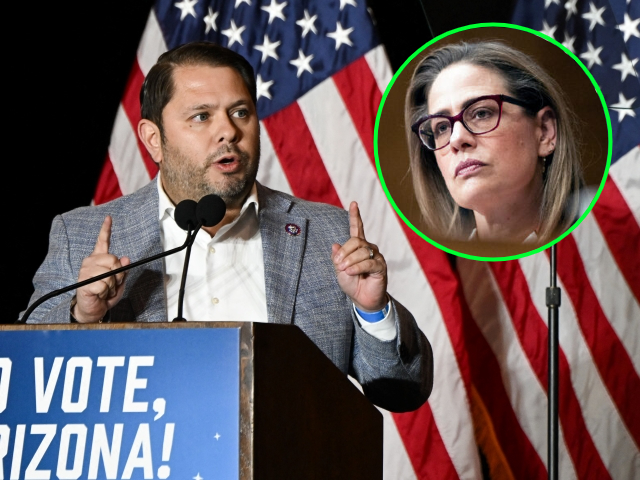 U.S. Rep. Ruben Gallego (D-AZ) speaks during a campaign event in Phoenix, Arizona, on November 2, 2022. INSET: Sen. Kyrsten Sinema (I-AZ). (PATRICK T. FALLON/AFP/Getty Images, AP Photo/Alex Brandon, File)

For example, Gallego tapped Rebecca Katz to serve as a consultant for his Senate campaign. Katz recently served as Sen. John Fetterman's (D-PA) top strategist during his victory last fall over Republican candidate Mehmet Oz.
However, Fox News unearthed anti-law enforcement tweets from Katz's past.
"We don't have to imagine this. We've seen black people with no weapons getting the s*** beat out of them for peacefully protesting all over the country. The police are most certainly not standing by and watching," Katz reportedly tweeted in the aftermath of George Floyd's death in 2020.
"The police are walking these protestors out of the Capitol. No handcuffs. 'Peacefully moving them off steps' AFTER THESE F****** BROKE INTO THE US CAPITOL," Katz reportedly tweeted on January 6.
Gallego also added Chuck Rocha to his team, a strategist who tweeted in 2020 that the "trauma" police cause should not be forgotten. Rocha, who will lead Gallego's Latino outreach, also claimed that law enforcement beats and bullies people based on their race, according to Fox News.
Keep in mind the trauma that all this thrusts on us who have been beaten by the police and bullied by police because of our appearance. Check on your friends and neighbors and be there for them right now #BlackLivesMatter  #righteousanger

— Chuck Rocha (@ChuckRocha) June 2, 2020
National Republican Senatorial Committee spokeswoman Maggie Abboud criticized Gallego for hiring "anti-police radicals."
"Ruben Gallego is stocking his campaign with anti-police radicals. Arizona families can't trust Gallego to stand up to Democrats' 'Defund the Police' movement," Abboud told Fox News.
Jordan Dixon-Hamilton is a reporter for Breitbart News. Write to him at jdixonhamilton@breitbart.com or follow him on Twitter.